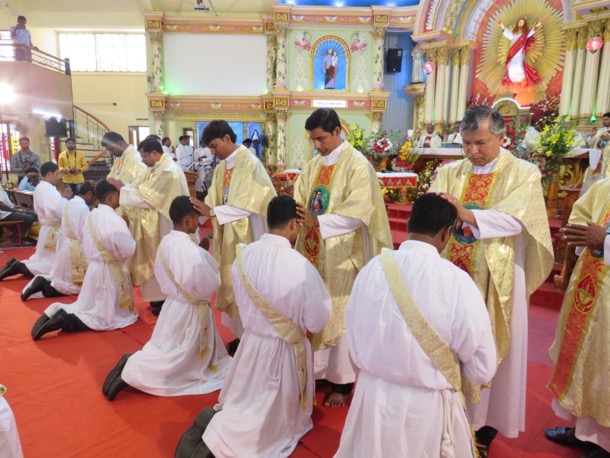 BANGALORE, India
– On June 5, 2018, the Indian Province celebrated the priestly ordination of six Montfortian deacons at St. Thomas Forane Church.
The day was also remarkable because it was the ordination day of our Founder, Fr. Louis de Montfort in France.
The six confreres who were ordained as priests are: Deacons Arun, Jayakumar, Prakash, Bala, Nashwin and Ravi. They were ordained by our Montfortian Bishop, Rt. Rev. Dr. Raja Rao, Bishop of Vijayawada. Our Superior General, Fr. Luiz Augusto Stefani SMM, and the General Councillor, Fr. Rosario SMM, graced the occasion. Their presence was very special to us. In addition, the family members of our newly ordained priests, the religious and the invited people were extremely happy during the occasion.
On 6
th
of June 2018, the newly ordained priests offered their First Mass for the Maria Bhavan community.
It was a charming day for the scholastics to witness those events as they prepare themselves to reach the Altar of the Lord. As they begin their new voyage, we wish them all the best for their apostolate and assure them our prayers.